There are two main reasons people visit a website – they want information on a topic or they want information about the business behind the site.
So why do some sites avoid sharing anything about themselves?
Add an about us page to your website and blog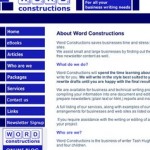 As Chris Lake wrote, an about us page "is surely one of the only true rules of doing business online. I can think of no good reason why you wouldn't have one."
An about us page can be very simple but it can make a huge difference to people thinking of doing business with you.
For a stand alone blog, it lets readers know who is writing the posts – for instance, is it a business or an individual, is it by an expert or someone learning the topic, or is the blog focussed on a specific topic or just a collection of ideas.
For a business website, it can build enough credibility for me to do business with you – or not.
How 'about us' can build credibility
you are being open and transparent compared to making me wonder why you are hiding things – no name on a website instantly makes me suspicious
providing history shows the business is more than a fly-by-night – if you've been in business for a few years, you must have done something right!
explaining how the business began or the passion behind the business will certainly give me a believe in the intent of the business and its owners
introducing team members can give me an idea of what skills are available for me as a potential client
listing values or just writing a personal story can show the company culture
I have an about us page on my website and as part of my blog, even though they are on the same domain, so it is easy for people to read about me and my business. I wonder if I'm brave enough to ask if you have read either of them!
How important is an about us page when you are assessing a potential supplier or service provider?