It may seem like a strange blog heading, the grammar of blog headings, but I was asked the question so here is my answer!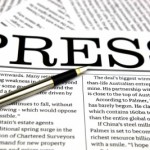 The heading or title of a blog post is usually the first thing someone will see and has a huge impact on whether anyone reads the actual content of the post, and therefore on the success of that blog post. Making it enticing is worth spending some time on, and you don't want to undo those efforts by using inappropriate grammar and spelling.
So what is the correct format for a blog heading?
 Do not write it all in capital letters – that is considered to be yelling and therefore arrogant, plus it is harder to read anyway
Unless you have a formal and old-fashioned brand style, use sentence case rather than title case for the heading – that is, use as few capital letters as is necessary
Use basic grammar and punctuation rules such as a capital letter for a noun, match plural/singular nouns and verbs, and put apostrophes in the correct places
Check all words are spelt correctly
Make sure the title makes sense. Titles can sometimes have fewer words than an equivalent sentence (e.g. 'the grammar of blog headings' is fine for a title but in the body of a post I need to add more such as 'the grammar of a blog heading can impact on your credibility.') but include enough words to convey the meaning (I couldn't use 'The grammar blog headings' for instance)
Have you noticed bad grammar in any titles? How did that impact on you reading that blog post (or article)?