How to write well eBook
Do you want to communicate effectively with your customers?
Communicating effectively to customers is the basis of a successful business, and good writing is the foundation for clear communications.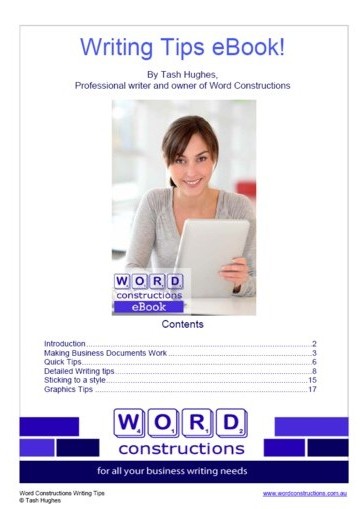 Maybe you know that good writing is necessary but just don't know the next step – making your writing good.
Sure you can hire a professional writer to help you with the big projects, but you will have to write some things yourself.
These are many aspects of writing clear communications, but without knowing some basic writing skills and rules it is hard to use the advanced techniques to best effect. Yet many of those basics are not hard once you have them explained to you and even alone, they can improve your writing and communication – you may be surprised how much more effective your writing will be after learning these skills.
As a professional writer, I have written a lot of words for online and offline materials, as well as having edited many more words written by other people. Using that experience, I have put together a collection of writing tips that will help you communicate more effectively.
How will the How to write well eBook help you?
You wull learn how to make business documents more effective, and usually in fewer words. So everything you write will have a better return for you
Learn one or two small writing techniques a day and your writing will soon be a lot better
Read through seven pages of detailed writing tips – each one is explained to help you understand how to use the tip in your writing today
You communicate in your own style – develop a consistent style for your business through learning these basics
You also get a bonus set of tips about using graphics in your documents from a talented graphic designer
That's over 45 writing tips, two articles and the graphics tips for only $8.75; if you make use of even half those tips, your writing will be clearer and more effective. And if these tips aren't simple to understand and implement for greater written materials, I'll give you your money back – you can't get much fairer than that!
Tash
PS Order your copy today, choose a couple of tips and use them for a week. You may be surprised at how much your writing will improve by learning a few simple tips.