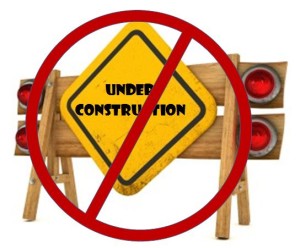 I honestly thought most people online know that an 'under construction' website is not a good move. Search engines don't give any credibility to sites with nothing more than a 'coming soon' message and people don't like wasting their time on such sites.
As I posted about in my 'starting a website' series, it is very easy to put a simple web page as a temporary site while a full site is being developed. This way you can get onto search engine lists, provide some interest and begin marketing efforts.
So I was very surprised this morning to visit a site I had received an email about.
The homepage has a nice background but twice stated 'under construction' as well as 'temporarily unavailable' and 'coming soon' – that's a lot of repetition in eight short sentences (one of which was 'please be patient!") Other than the business name as a heading, there was no information about what the business does and no real content.
Given I was making a decision about the company, this wasn't good marketing for them. They didn't include contact details but at least there were links to their twitter account and email.
Oh, there was no twitter user name or email address attached to the links, so their credibility fell further.
However, the biggest shock was when I clicked on the link in the footer which I assumed was their designer but thought may give me some information. It wasn't their designer but a site selling 'under construction' themes for blogs! People are spending money on pretty backgrounds to put up words that may hurt (and certainly won't help) their online reputation.
If you've been online for a while, does this shock you as much as it does me?
If you are looking at getting your business online, please don't waste your money on a template or designer offering under construction pages. A plain page with an introduction and contact details will work much, much better.
What did you do while your site was being developed?