Starting your style guide
How well do you maintain your business brand? Do you find it hard getting suppliers and your team to be consistent with even the smallest details?
A business brand is more than having a logo and tagline. Your brand is the sum of everything your business does, from how you great customers and the colours of your website to the word you write in emails, instructions and marketing materials.
Your brand is built on consistent messages being presented.
But how can you keep your brand and style consistent time and again?
The simple answer is to have a style guide that specifically suits your business and your audience, and then making that style guide mandatory for suppliers and team members.
An off-the-shelf style guide or manual may help but will not factor in your clients' preferences, let alone specifics like your brand names and colours. So you are better of putting the time and money into a personalised style guide, either by using a template or writing your own style guide.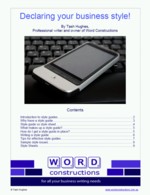 Declaring your business style gives you tips on making an effective style guide. You will learn the first steps to creating your own style guide, as well as use a list of topics that are common across most industries.
Click the 'buy now' button below and get started on your style guide today – it won't get any easier if you wait!