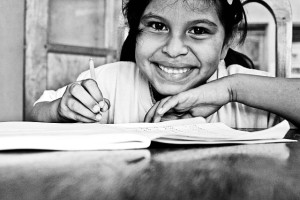 "It's not fun to reread everything but you have to edit your work. I've written long essays at Uni, thinking they were good, but when I edited them, I found some bits just didn't make sense. Sometimes your brain takes a little rest and you don't write as well."
That's what my son's grade two teacher said this morning as she led a class on editing.
learning to edit
The ability to edit what we write is an important communication skill. For instance, if I wrote an invitation for Thursday 10pm, I may be a bit lonely at 10am when no one turn up because I hadn't checked what I wrote in the invitation.
While it can be much easier to edit someone else's work as it is fresh to us and we don't have an expectation or memory of what was to be written, there are many times when doing your own editing is necessary.
Technically, learning to read and write gives us the skills to edit our work (for example, you could recognise 'siad' was incorrectly spelt).
However, as I saw in the classroom today, being given direct tasks for editing is an effective way to understand and undertake editing.
basic steps of editing
Each student was given a checklist of tasks to edit a piece of work they wrote last week.
The group I worked with, went through the list item by item to improve their writing. When I edit, I probably do multiple steps at once but doing one at a time is simpler for children. I also think that doing it step by step actually makes errors easier to spot.
So the checklist today was:
title
sizzling start
backfill
events in order
does it make sense?
check capital letters and full stops
check spelling
Why not follow this list next time you have to edit something?
understanding the checklist
Just because this list uses very specific terms taught at our school (and others!), here are a few tips…
not everything needs a title, but most writing that you would edit does (including an email subject as a title)
make the beginning interesting! Primary students are taught to make a sizzling start on a simple level, but your writing should also start with something interesting
backfill just means an introduction or explanation of the writing. Consider this the all important sentence that answers who, what, where, why and when.
different styles of writing require differences in content, so you may not always need events to be listed in chronological order – but the order of what you do include needs to make sense in the relevant context.
at school today, I had the students check each sentence made sense. Some had written 'first tunnel ball. then octopus.' which obviously needed to be more like 'first we played tunnel ball, then played octopus.'
As more literate adults, we can read through the work faster to check for meaning. However, a slow read of each paragraph can really help spot errors.
getting help
I liked that the teacher today actually told the students to get help with editing.
First, she suggested that if they suspected (or knew!) a word was misspelt they could check the spelling by using their dictionary or asking a classmate.
Then, she also suggested that for any sentence they were unsure of, it was ok to say "Hey, Tom, does this make sense to you?" and get someone else's opinion.
So even if you don't get someone to edit your writing for you, you can look up or ask for help on specific sections of your work. If the writing is of importance, the editing help is really worth the effort.